By Iola Goulton | @iolagoulton
You can't live in Australia (or New Zealand) and not play or watch cricket.
If there isn't a law against it, there should be. Cricket and rugby are our staple sports, and there is more than a little international rivalry between the teams.
But cricket isn't a sport I see in fiction. I've read books where the hero played baseball or football (that's American football, not soccer). I've read
Falling for Maddie Grace by Meredith Resce
, which featured Australian Rules football. While there are some general market romance novels featuring rugby players (go the All Blacks!), I've never read a novel with a cricket scene.
So I was thrilled when I opened
Solo Tu by Narelle Atkins
, which starts with beach cricket. Beach cricket, backyard cricket, school cricket, provincial cricket, international cricket. All variations of our national summer sport.
I decided to share some cricket basics with you today, in honor of the release of Solo Tu.
Cricket is a team sport. There are two teams with eleven players on each side, and it's played on a grass oval. The picture above shows my local ground, the Bay Oval.
Each team takes a turn to bat, like in baseball. There are two batters on the pitch, one at each end of the wicket. Here's the wicket. You can see the batters at each end, getting into position for the next ball. The two men in red are the umpires: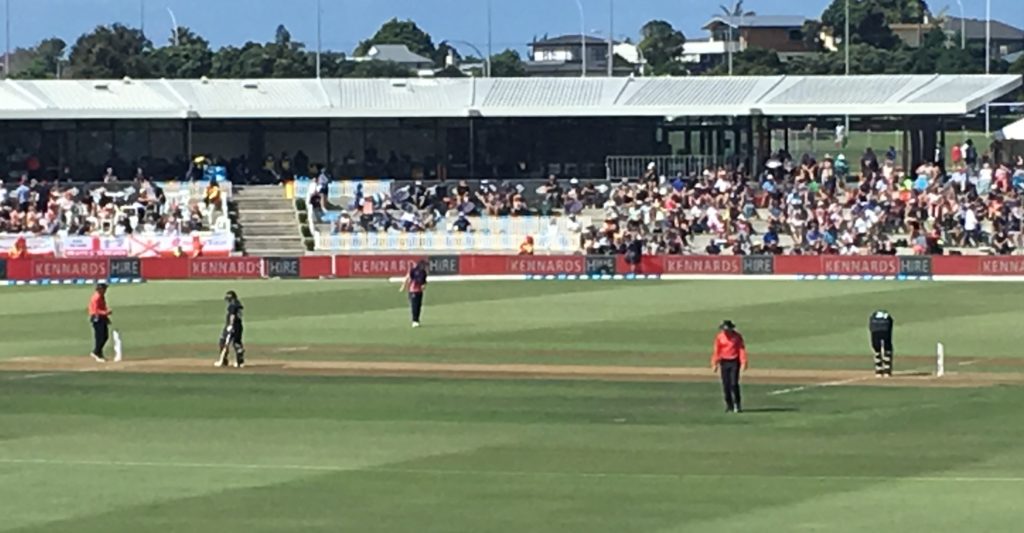 Batting
One batter is "on strike", which means they are facing the bowler. There are two sets of wickets, and the two batters run between the wickets to score. If the ball goes all the way to the boundary, that's a "four"—four runs are scored. If the ball goes over the boundary on the full, it's a "six". The batters don't have to run if a four or six are scored, which is an incentive—a batter can be at the crease for hours.
Unlike in baseball, several bowlers take turns to bowl. Each bowls an "over" at a time, which is six bowls or "balls". The next bowler then bowls from the opposite end of the wicket, so each batter gets a chance to face the balls—to be on strike. Bowlers bowl overarm, rather than the more sideways throw of a baseball bowler.
The main ways batters get out are by being caught out, by being bowled out (if the batter misses the ball and it hits the wickets), or run out (if the ball hits the wickets while one of the batters is still running). There are lots of other rules—here are the basics from a recent game I attended: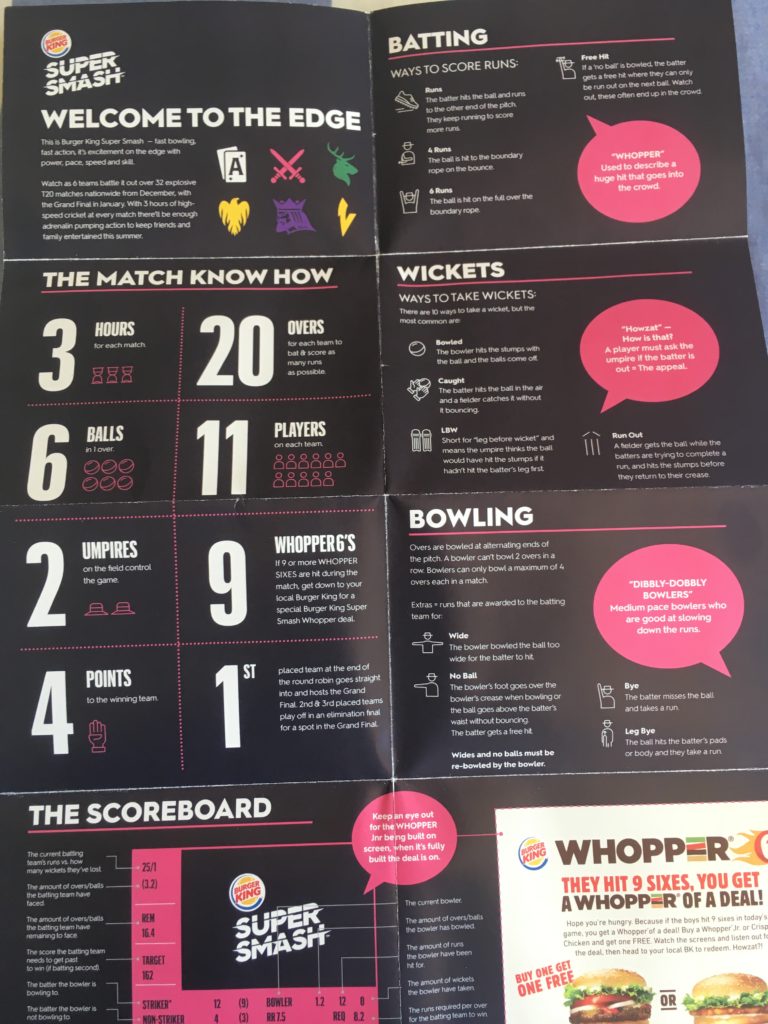 (Simple? Yeah, right.)
The innings is over either when all the batters are out, or when a certain number of overs have been bowled. The most common games are 20/20, where each team faces 20 overs, or a one-day game, where each team faces 50 overs.
So cricket is kind of like baseball, except where it isn't.
But baseball has nine innings in a game, whereas cricket only has one or two. School and one-day cricket have one innings each, while test cricket has two ... spread over five days. Tests are international games, and usually played as part of a two or three-test series. That's a lot of cricket. The best part? (Or worst part, dependig on your point of view).
A test can result in a draw. Which means you play cricket for fifteen days, and there is no winner. That's testing.
Beach cricket is less formal. It's usually one innings and the boundaries are flexible—the sand dunes and the water. The teams will be even, but won't necessarily be eleven players on each side. Men, women, boys, and girls all play together. The rules bend depending on who is playing, and where. We have lots of space on the beach: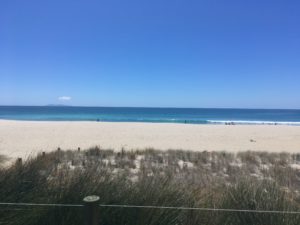 And it's a lot of fun—as you'll see if you read Solo Tu. These days I prefer armchair cricket to playing, but it's still a staple of the Aussie and Kiwi summer.
What's your favourite summer sport?
You can read the cricket scene from Solo Tu below: